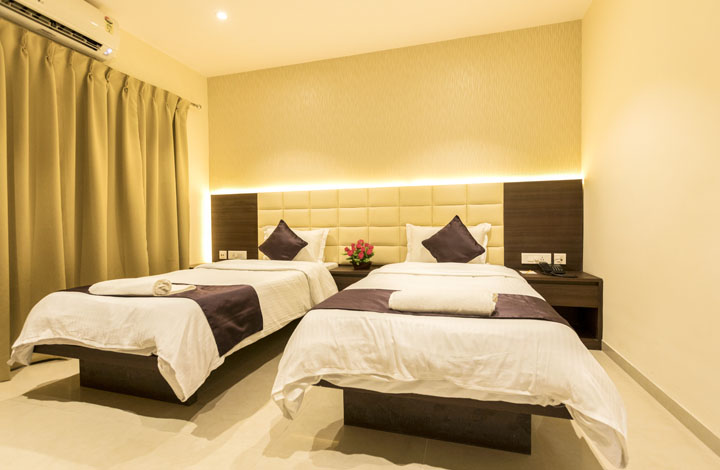 Corporate Hotel Booking in Kolkata
Want know about corporate hotel booking in Kolkata with a prime location like the Heart Of The City, on Burdwan Road in Alipore, Kolkata and reasonable price tags, The LYNQ CICO" Luxury Hotel in Kolkata provides a perfect getaway destination for business persons. A value added "picks up and drop" facility from the city airport or railway station, with complimentary breakfast, LED/LCD TV, Welcome drink & Snacks, Free gym, makes The LYNQ CICO one of the best corporate hotel in Kolkata. The rooms are unique and charming, created with minimalist décor exudes warmth and luxurious feel. Featuring restaurants on-site, guests can indulge in mouthwatering, authentically prepared dishes assuring to satisfy all your cravings. A stay at this lavish property offers a vacation that is suitable for both business travelers and leisure-seeking individuals.
Corporate Hotel Booking in Kolkata
In order to make our hotel best for corporate booking we tent focus on few important points that makes us unique and trustworthy.
Budget
It is true that there are many luxurious hotels, but most of them do not care about your budget. Hence, it is our duty to make sure you get all the services of those hotels yet stays budget friendly. This doesn't mean you have to compromise on the necessary facilities The LYNQ CICO is cheap and have services like our state-of-art complimentary gymnasium or Aroma Day Spa.
The LYNQ hotel's rooms are safe for visitors; especially in these difficult times we take extra cautions to prevent any kind of hygiene error. Our rooms are specious and decorated with elegant interiors, redefined style and comfort. We offer total 6 types of rooms, so that guests can have option to choose based on their needs.
Connectivity
The LYNQ CICO located near most of the major attraction of the city like Zoological Garden, Victoria Memorial, National Library, St. Paul's Cathedral, Fort William, Academy of Fine Arts, and many more. Apart from that most of Kolkata's major landmarks, offices, popular shopping areas are well connected with our hotel.
Search of Corporate hotel booking in Kolkata ends with LYNQ CICO Luxury Boutique Hotel in Kolkata. It is perfect choice for you as we offering accommodation, food, spa, gym and everything that you can ask for in a corporate hotel. The lavish creations are distinctive and awe-striking, creating it a really majestic expertise for all. For any further info please contact us.